WHY WE LOVE IT
Prime time brows, anytime!
It's a brow RE-appearing act with this nutrient-rich eyebrow primer! Worn alone BROWVO! conditions & smooths brows.  Worn as a primer it enhances & extends the wear of other brow products.  This conditioning formula contains keratin & soy proteins known to help brows look THICKER, HEALTHIER & FULLER. Signature Tips & Tricks included!
All-in-one eyebrow serum
Clear gel suits all brows
Custom soft-touch applicator
DETAILS
HOW TO APPLY
Ooh…ahhh…double-duty eyebrow primer! If it's your first prime, twist the base continuously until gel appears on the tip. For daily use, click the pen once and wait for gel to appear. Glide BROWVO! over brows & let dry. Apply before makeup for a beauty boost…or wear this nutrient-rich formula overnight so it works its conditioning magic while you snooze.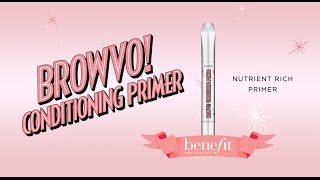 @benefitbrowartistgermany
Q:
It there a travel size for this product?
A:
Hi gorgeous! We do have a BROWVO conditioning primer travel size mini in our Defined & Refined brows kit! https://www.benefitcosmetics.com/us/en/product/defined-refined-brows-kit
---
Q:
I noticed the primer had soy protein in the ingredients, I have a soy allergy can I use the product?
A:
Hi gorgeous! If you have a specific allergy, please take the ingredient list (which can be found on the product detail page) to your dermatologist to determine if a product is suitable for your skin. https://www.benefitcosmetics.com/us/en/product/browvo
---
Q:
How long do you let the primer dry? How do I use the primer? (Prime vs. conditioning)
A:
Hi gorgeous! One click for each brow is all you need. Massage silicon applicator through the brow coating the hair and skin. Make sure you allow it to dry for 1-2 minutes before applying brow product over it. If using as conditioner just glide on and go!
---
Back To Top