WHY WE LOVE IT
WHY WE LOVE IT
Dust this award-winning bronzing powder over your chin, cheeks and forehead for a healthy, natural-looking "tan" year-round. It's pure matte color…no sparkle or shine!
Sun-kissed glow
Great for contouring
Soft, natural-bristle brush included
AWARDS
Hoola is the #1 best-selling Prestige Bronzer in the US*

*Source: The NPD Group, Inc. / U.S. Prestige Beauty Total Department/Specialty, Makeup Product Dollar Sales, Annual 2016 - Annual 2018
HOW TO APPLY
HOW TO APPLY
Skip the tanning bed, avoid orange hands and still look sun-kissed on a cloudy day. Sweep across chin, cheeks and forehead with accompanying brush. Always tap off excess powder to avoid applying too much color. To chisel those cheekbones and flatter that jawline, contour with our blush brush.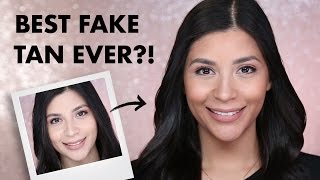 @benefitbrowartistgermany
@sarahbigleyhairandmakeup
@sarahbigleyhairandmakeup
REVIEWS & QUESTIONS
Q:
Can I use this with Hello Flawless powder? I was wondering if this would look okay in addition to hello flawless foundation powder.
A:
Yes you can it looks amazing.
A:
Yes, I think you can do it.
A:
Yes it really leaves a beautiful natural finish.
A:
You sure can, gorgeous! For a sheer, natural finish, sweep on hello flawless with the brush. With light, quick strokes, blend from the center of your face outward. For full coverage, apply evenly over entire complexion with the sponge. For spot cover-up, pat gently and blend over any areas where you want extra coverage. Then, sweep hoola across chin, cheeks, and forehead with accompanying brush. To contour, use with our blush brush. https://www.benefitcosmetics.com/product/view/hello-flawless https://www.benefitcosmetics.com/product/view/hoola B xo
---
Q:
The brush What is the source of the natural bristle of the brush?
A:
Hi gorgeous! The brushes in our box o' powders are made of goat hair. B xo
---
Q:
Has anyone tried to use this to even out a tan line?If so, how'd it go? I saw a tip that said it could be used in such a manner and I'm curious as to whether or not it would work. I do need a new bronzer anyway since I have gotten really tan over the summer and I thought this might be a good way to kill two birds with one stone.
A:
it depends how tan you tan line is. If it's a light tan line then you can cover it up with Hoola if you build up the color. And there's no orange streaks, it's a nice brown color with a nice velvety texture.
---
Q:
Fake or Real or different colors? I have been using Hoola for many years, I sometimes buy it on ebay...but what I have discovered there is either fake Hoolas on ebay or there is different shades of Hoola. Sometimes I will get one the will leave your face looking really tan, and then another times I get one that seems like a mat tint and does not tan your face like some I have had before. Is there fake Hoolas out there because I can really tell the difference or is there different shades of Hoolas? Thanks
A:
Benefit Cosmetics products are sold exclusively at benefitcosmetics.com, benefitcosmetics.co.uk, at freestanding Benefit boutiques and licensed retail stores in the United States and abroad. We are unable to comment on the authenticity of products purchased from unauthorized parties, unable to offer any compensation for unsatisfactory products purchase from unauthorized parties. This is why the only way to protect yourself 100% from buying a fake product is to purchase it through one of our many authorized sellers.
---
Q:
my skin color is fairly light so im pale but not white white. is this bronzer good for like winter time and mainly is it over all face or contour i need to no if its overall face and does it make me look orange !!!
A:
I use this mainly for a Contour on my cheek bones. Although, it does also work great all over the face. The powder it's self stays on for a long time. But I would suggest priming your face with porefessionall to even out your face and create a nice base.
A:
I am just like you (very pale) and i was scared as well because i thought it would turn me a weird color but it gives you this subtle glow that is sooo amazing that you should definetly should give this product a try you will not be dissapointed!Also to answer your question it could be both. A great contour for you cheekbones or an all over color to give you a tan.
A:
I have fair skin this is perfect for it. I definitely does not look fake, it's very natural looking. Definitely overall face bronzer.
A:
Hoola is great for whenever you want to achieve a tan look and to contour your face. As a devoted Hoola fan, I would not be using it for 5 years if it left me orange. It's truly gives a perfect matte tan so you don't look too made up, just natural. Since you are fairly light, a little will go along way! Enjoy!
A:
I have light skin, and this doesn't look orange or "dirt" brown...it's very natural. It's also sheer, so don't be intimidated when you see the actual palette...it looks super dark!! But, it's not. It's just very compressed in the compact. It is matte, but it does not look chalky at all. This is because it is very finely milled- the particles are extremely minute. It gives the appearance of putting a sheer, matte, bronze gel on the skin. It really melds with your complection. You can apply this where the sun naturally hits, and it will not look like you are wearing makeup. I've tried dozens...this is the most natural and convincing bronzer I've ever used.
A:
I use it both for contouring and over all depending on the day, I first bought mine in Winter and I was so happy I felt like I'd been spending days n a beach. It's definitely not orange in the least. I don't use the brush it comes with, I use a powder brush and always make sure I tap it off so I don't get too much on my face.
A:
This bronzer will never make you orange. It's a miracle! You can absolutely use it everywhere. For all over, or for contour it works perfectly.
A:
Dust this soft bronze powder over your complexion for a healthy, natural looking "tan" year-round. No tanning bed necessary! Complete with soft, natural-bristle cheek brush. It's pure color - no sparkle and no shine! You're going to love this bronzer and we guarantee, no orange!
---
Q:
Does this work for darker skin tones? My skin tone and hair are similar to Selma Hayek... Will this color work for me or would you suggest a different shade?
A:
it will probably give you a nice highlight. since you're darker, you can really build up the color because on darker skin it won't look as obvious as on lighter skin tones. Or you can try Dallas. It's darker with plum undertones.
A:
I have dark skin and hair, not quite as dark as yours though but it works amazingly on me! If you have a benefit stand at a mall or a sephora near you i would go in and try some on, but it should work well on you too! it is a dark bronzer so I think i looks better on dark skin anyway, but it is also very easy to adjust the shade you want by how much you put on your face. The hoola also doubles as a powder, so I don't use it as just a bronzer!
A:
I think this would be perfect for your skin tone, just the slight bit of colour you need and not too orangey which would not compiment your latino skin tone ? go for it its a great bronzer very verstile :) I would also recomend CORALista with this :) they look great together
A:
yeah, i was so unsure at first because i am pretty dark. but then i thought that i should give it a shot-BEST decision ever! it gives me the cute glow that i really want, and despite having dark skin it SHOWS UP! quite a great buy.
A:
It is great for any skin tone. My sister and I have two completely different skin tones, but it works on both cases! This product is worth it.
A:
Its only in one shade. but its looks great on all skin tones. Great for contouring.
---
PRODUCT DETAILS
SIZE
INGREDIENTS
Ingredients:
TALC, IRON OXIDES (CI77491CI77492CI77499), ZINC STEARATE, ETHYLHEXYL PALMITATE, TITANIUM DIOXIDE (CI77891), DIMETHICONE, MANGANESE VIOLET (CI77742), METHYLPARABEN, SODIUM DEHYDROACETATE, BORON NITRIDE, PROPYLPARABEN, BUTYLPARABEN. N° 3N5276
Please read the ingredient list on the packaging of your product to be sure that the ingredients are appropriate for your personal use.
FIND A STORE
Back To Top