fly with FEATHERED brow styling set
brow pencil & gel set for feathered eyebrows (a $48 value!)
$30.00
01 - light

02 - light
WHAT'S MY SHADE?
1
If your hair color is...platinum to golden blonde (or if you're rockin' silver strands) your shade is 1 light.
2
If your hair color is...sandy blonde to light brown your shade is 2 light.
3
If your hair color is...golden ash brown with warm undertones your shade is 3 medium.
4
If your hair color is...medium to dark brown or auburn your shade is 4 medium.
5
If your hair color is...warm dark brown to warm black your shade is 5 dark.
6
If your hair color is...cool dark brown to cool black (or if you're a salt 'n' pepper gal) your shade is 6 dark.
WHY WE LOVE IT
Feathered brows are in! This set has everything you need to create natural-looking, textured brows for the ultimate bohemian chic look. It includes our ultra-fine, waterproof* precisely, my brow pencil and invisible 24-hour brow setter gel!
A $48 value!
Brow kit for feathered eyebrows
Full size brow pencil and setting gel
*instrumental test on 23 panelists
DETAILS
Set contains:
full size precisely, my brow eyebrow pencil | 0.08 g Net wt. 0.002 oz. • full size 24-hr brow setter clear brow gel | 7.0 mL / 0.23 US fl. oz.
HOW TO APPLY
Fill in brows with light, quick strokes of precisely, my brow pencil from the start to the tail of the brow. For extra texture, add a few more feathery strokes in the direction of your natural hair growth to the start of your brow. Brush 24-hr brow setter upwards through brows to set & "feather" brow hairs.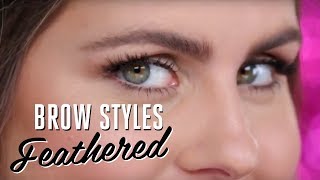 Back To Top