fine-one-one
sheer brightening color for cheeks & lips
£25.50
TRY IT ON!
TRY IT ON!
WHY WE LOVE IT
fine-one-one to the rescue! This sheer brightening cheek & lip color gives your look instant LIFT, SHAPE and POP. Glide on the three shades-pink champagne, sheer watermelon and soft coral-for a sheer coral pink flush that builds from soft & natural to bright and cheery.
Instant cheekbones
Cream-to-powder formula
Three-in-one multitasker
DETAILS
Ingredients
Shade: Pink Champagne/Highlighter TRIETHYLHEXANOIN, POLYETHYLENE, HYDROGENATED POLYISOBUTENE, SYNTHETIC FLUORPHLOGOPITE, OCTYLDODECANOL, C12-15 ALKYL BENZOATE, POLYMETHYLMETHACRYLATE, SILICA, DIMETHICONE, CI 77891 (TITANIUM DIOXIDE), ALUMINUM STARCH OCTENYLSUCCINATE, OLEA EUROPAEA (OLIVE) FRUIT OIL, SQUALANE, PHENOXYETHANOL, CAPRYLYL GLYCOL, TIN OXIDE, TOCOPHERYL ACETATE, BENZOIC ACID, CI 19140 (YELLOW 5 LAKE), CI 15850 (RED 7 LAKE), BHT, 1, 2-HEXANEDIOL.Shade: Sheer Watermelon TRIETHYLHEXANOIN, POLYETHYLENE, OCTYLDODECANOL, POLYMETHYL METHACRYLATE, HYDROGENATED POLYISOBUTENE, C12-15 ALKYL BENZOATE, NYLON-12, DIMETHICONE, SILICA, ALUMINUM STARCH OCTENYLSUCCINATE, CI 77891 (TITANIUM DIOXIDE), OLEA EUROPAEA (OLIVE) FRUIT OIL, SQUALANE, CI 15850 (RED 6 LAKE), CI 19140 (YELLOW 5 LAKE), PHENOXYETHANOL, CAPRYLYL GLYCOL, TOCOPHERYL ACETATE, 1, 2-HEXANEDIOL, BENZOIC ACID, CI 77491 (IRON OXIDES), CI 77492 (IRON OXIDES), CI 77499 (IRON OXIDES), BHT. Shade: Soft Coral TRIETHYLHEXANOIN, POLYETHYLENE, OCTYLDODECANOL, POLYMETHYL METHACRYLATE, HYDROGENATED POLYISOBUTENE, C12-15 ALKYL BENZOATE, NYLON-12, DIMETHICONE, SILICA, CI 77891 (TITANIUM DIOXIDE), SYNTHETIC FLUORPHLOGOPITE, ALUMINUM STARCH OCTENYLSUCCINATE, OLEA EUROPAEA (OLIVE) FRUIT OIL, SQUALANE, CI 19140 (YELLOW 5 LAKE), CI 15850 (RED 6 LAKE), CI 77492 (IRON OXIDES), PHENOXYETHANOL, CAPRYLYL GLYCOL, TOCOPHERYL ACETATE, TIN OXIDE, 1, 2-HEXANEDIOL, BENZOIC ACID, BHT.
N?? 07103/A
Please read the ingredient list on the packaging of your product to be sure that the ingredients are appropriate for your personal use.
TAGGED
HOW TO APPLY
Running to & fro? Someone call fine-one-one for time-saving beauty! With the pink champagne highlighter at the top, glide from the apple of your cheek to your temple. Blend with fingertips in an upward circular motion and sigh with bright relief! Swipe over lips for a smooch of coral color.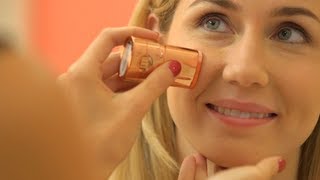 Beauty Tip:
fine-one-one is lovely in layers: wear with your fav box o' powder.
Average Rating
4.30
5

(44)

4

(15)

3

(9)

2

(5)

1

(1)
---
3 Aug 2015
LOVE IT
DevDevDevDev
Location:
Jakarta, Indonesia
I'm in love with this product. The packaging is simple, small, and easy to carry. It gives my cheek a lovely blush. The first time I used FINE-ONE-ONE to the office, the wife of my boss complimented how fresh I looked. I would gave 5 hearts if FINE-ONE-ONE last longer on my skin (probably it's due to my oily-combination skin type) and it works on my lips. But I will definitely repurchase for sure :)
---
3 Aug 2015
Love! Glides on so smoothly!
Love this stuff for my cheeks but occasionally use on my lips :)
---
2 Jun 2015
LOVE!!!!!! <3 To start with please never ever ever...
Sanah
Location:
New Delhi, Delhi, India
LOVE!!!!!! <3 To start with please never ever ever discontinue FINE ONE ONE !! It would be an absolute crime! I CANNOT live without this product. The feel of the product as well as how smoothly it glides on the apple of my cheeks is just flawless!! That absolutely lovely matte feel on the lips is justttttttt SO RARE, you don't get in many products. The colours are just perfectly picked! I wear this in the day mostly and its just so so so perfect!!! GRAB YOURS TODAY!
---
14 May 2015
Absolutely love it!
I don't have much cheekbone-ness going on and I also have a fairly red complexion - I always feel like I'm trying to get a nice rosey glow on the correct part of my face! I got this as a bit of a wildcard really but it's great - really nice pinky/coral hue and the shimmer part at the top gives a nice highlight. My boyfriend even noticed and said it looked lovely (quite an impressive feat to get that guy to notice these things!). Will definitely get again
---
7 May 2015
Love this!
All I wanna say is never to discontinue this product because I am gonna use this forever. This is now one of my favorite makeup products I currently own and will definitely repurchase!!!! :)
---
11 Apr 2015
Great for daily school/work
Constance96
Location:
Singapore, Singapore
I am a student and I absolutely love how it enhance my cheekbones and how easy it is to use. Sheer but is buildable which I love because this means I can go from a natural day look to a slightly glamorous look in the night without switching products :). I usually use it to create a naturally flush, the no makeup makeup look :D I will definitely repurchase in future again.
---
17 Mar 2015
not the best Benefit blush
wildcat123
Location:
California, USA
Didn't work for me - the colors look terrible and it's hard to apply
---
4 Mar 2015
Not as scary as it looks!
Phiddyj
Location:
North Yorkshire, UK
Despite my fear of this gorgeous stick of multicoloured loveliness, it provides a very subtle glow and highlight to my cheekbones. love it.
---
4 Nov 2014
I love this product so much. The only issue is that my...
jewpuff
Location:
Brisbane QLD, Australia
I love this product so much. The only issue is that my foundation would come off onto it so I'd have to apply 2 or 3 times to get a good colour. But it's so quick and easy and I love the colours.
---
27 May 2014
Works as Promised!
LCHawkins
Location:
St. Louis, MO, USA
I love Fine One One! I typically don't like products that are more than one color in one, because they are had to apply in the right areas. Not the case with Fine One One! This is so easy to use, and has buildable color, which makes it great for many different skin tones. The texture is creamy, so it makes it easy to blend. It doesn't feel heavy at all on the skin. I also like the sleek container. The amount of product in the package is also very generous. I tried it on my lips as well, but wouldn't use it that way again. Overall I am very satisfied with the product and definitely will repurchase!
---
21 Apr 2014
Its too sheer
I first got this product as a gift from a friend but lost my whole makeup bag on the train. So i decided to repurchase what i had lost from my makeup bag. The majority of it was benefit and as i went to buy Fine one-one i realised I hadn't even tried it, so I bought it and went to use it the following day and it didn't come off too colourful, I'd hoped that it would come off quite nice, I couldn't even build it up.
---
19 Mar 2014
Perfect Blush stick!
I love this blush. It gives the perfect peachy pink glow on my cheeks. Love the compact packaging. Very easy to apply and blend over my foundation.
---
12 Mar 2014
utile e innovativo
un prodotto geniale che colora illumina e lascia le guance davvero splendide. Un segreto..... lo uso pure sulle palpebre :-)
---
4 Mar 2014
Another great product from Benefit
I was making a Benefit purchase in Sephora a few weeks ago and I swiped this on my cheeks before I left the store. I initially thought it was super cute, convenient, and pretty and I loved the color it gave me (I am the lightest shade in Benefit's foundations, BB cream, and concealer FYI). I went back to the store a few more times and every time I would swipe this on before I left. Even though I loved the flush it gave me I was hesitant to purchase it because I already own two of their boxed powders (Dandelion and Hoola), the High Beam highlighter, and the Posietint stain...did I really need another cheek product? But I kept falling in love more and more so I finally cracked and bought it and I am so happy that I did! It really livens up my face and it just looks soooo pretty!
---
21 Feb 2014
GREAT COLOR
Stephee14
Location:
Los Angeles, CA, USA
I'm a medium a deep skin tone, and was pleasantly surprised with how much I loved the color! Gives me a nice peachy and radiant blush. The highlighting effect makes this such a convenient product to carry with me for any quick touch-ups.
---
15 Feb 2014
Not good
Just purchased this one and i kinda regret getting it because it dissapears so quickly and doesn't even stay on the cheeks for even 30 minutes and the area becomes oily and shiny. Too expensive for the quality.
---
29 Jan 2014
IN LOVE with Cheeks - Break up with Lips
LuckyPenny
Location:
Brisbane QLD, Australia
Love love love this product, it has a permanent home in my hand bag for those sneaky touch ups during the day. The colours are flattering on my skin tone (medium) and I love the mix of brightening and conture. Easy to apply, small enough to take with you on a night out, and snap it comes in a cute little package. However - Benefit says it's for your lips too? I can't really see where they got that idea. I've really wanted to use it on my lips, and I've tried a few times, but the "feel" is really dry and "chalky" almost - and the colour just doesn't turn out as nice on my lips as it does my cheeks. All in all, I love this for my cheeks 100% - but don't love it for my lips.
---
23 Jan 2014
Pómulos, no labios
Me encanta, me fascina pero sólo en los pómulos en los labios no, reseca pero siempre hay humectantes que pueden servir pero mientras yo sólo lo uso en los pómulos y me encanta
---
1 Jan 2014
Great product, but not used on lips!
This is a great product by Benefit. This gave my cheeks a nice wash of color. It's cream to powder finish which is amazing. However, I would not recommend using this for your lips. I have tried using this with lip balm underneath (waited a few minutes before applying the Fine One One) and my lips still looked bad. Settled to fine lines and looked messy. Would have rated the product 5 hearts but after the experience with this product on my lips, the cheeks were a winner for me.
---
31 Dec 2013
Pretty Incredible Little Gadget!
kytowzzz
Location:
Regina, SK, Canada
This product gives a nice glow on the cheekbones, and its size is excellent for having on the go for a quick pick-me-up.
---
29 Dec 2013
Looks Fresh and Feels Good
It's a time saver that can be used for so many things! I love the colors,which look fresh and flawless on anyone's skin tone. I highly recommend it. It can be a little pricey,but it will last for a while!
---
25 Dec 2013
Nice
Amanda0083
Location:
Sydney NSW, Australia
I love this product, it gives the perfect flush. Though it doesn't last that long but it is easy to carry around unlike powders. It also makes you look more awake a fresh but the only thing is DO NOT use it on your lips, i dont know why benefit suggested it to be able to be used on the lips... It makes them look flakey, ashy and overall ugly :( amazing on the cheeks so I still gave it a 5 star
---
16 Dec 2013
Great colors
Amy2414
Location:
Victoria, Australia
I was very excited to try this, as I had watched a few YouTube videos on it. The colors are very pigmented and strong, And I have been blending with my finger tips. Only downside to this product it that I like to wear reasonably thick foundation, and when I apply the fin-one-one it seems to drag it off my face. I've decided to use this one the days where I only apply a bb cream, to give me and bright rosy cheeks, great for summery or spring days.
---
30 Nov 2013
Beautiful and delicate
Eventyr
Location:
Buenos Aires, Argentina
I've bought FOO and it's great. I've tried it on the cheeks and leaves a soft and delicate brightening colour! FOO is so easy to blend you don't even have to use a brush. It's great to carry on your bag for it's size. Forget about beauty emergencies! Thou this product is not quite large as I expected, totally worth the purchase!
---
22 Nov 2013
Great for a quick pop of color on the go
ameelou
Location:
Sydney NSW, Australia
I really like Fine One One, really easy to apply and you control the depth of color you want. One swipe and your face looks ready for a day at work and two swipes for a night look. I recently tried this on my friends 14 year old daughter as she is just getting into makeup. I was trying to convince her that she does not need foundation just a pop of color on her cheeks and maybe a little mascara. I put this on her and she loved it, and easy enough for her to do it herself. The only thing negative i have to say about this is you have to re apply it again during the day because the color comes off slightly but thats ok because its easy to carry around.
---
22 Nov 2013
LOVE LOVE LOVE this
This is a new favourite product of mine! Initially when applied I feel it may be a little too bold but once rubbed in it gives a natural looking glow with the added shimmer with the palest colour. This is soo easy to use and looks gorgeous in a make-up bag. I am not a fan of powder blushers and until recently Benetint was my favourite product - this has definitely topped it!! Definitely give this a try!!!
---
4 Nov 2013
So close to perfect
SDerrida
Location:
Orange County, CA
I have medium olive skin, hazel eyes, and dark red hair. I absolutely love Fine-One-One's peach and coral shades for both my lips and cheeks. This stick is lovely on its own and fabulous for enhancing my ChaChaTint. The colors in Fine-One-One's container look like they would be too pink for me, so am I ever glad I tried this on the back of my hand. On my cheeks and lips the colors warm and they give me a super pretty flush. For me, the glittery white strip section is a waste. I think it's there for highlighting cheekbones or something. On my cheeks it looks like a very strange stripe of white glitter and it sticks out like a sore thumb. (Maybe I don't apply it properly, though). I've been able to shape my FOO stick so I can avoid the white part, but that's only me. The product itself is fantastic. I am so happy BeneFit continues to offer more and more products for us warm-toned gals!
---
3 Nov 2013
Fabulous Product!
Narelle
Location:
Airdrie, Scotland
I don't wear much makeup, so the products I use are normally light, quick and easy to use. Fine-one-one ticks all my boxes! I can use it on my cheeks and easily build up the colour, and it's a great dash of colour on the lips. A big plus is that it fits in a small handbag so you can take it in a small clutch. I love it!
---
23 Oct 2013
Love for a quick blush of color
This is a great product to use if you want to get out quickly. I use it with a BB cream and out I go. It is very light. I find that I can get all colors on evenly and also use the light color under my brow. I swipe it on two times to get good coverage.
---
10 Oct 2013
natural color, fanatastic
natural color. colar color beautiful To highlight the natural representation It's amazing.
---
23 Sep 2013
Love the ease of application.
This is a great product when you are in the mood for a quick blush application. I usually just apply it in a sweep along my cheekbones and blend it in and go . Occasionally I dab the frosted whiter end parts on my eyelids for a bit of an eye shadow type presence. I am fair skin with strawberry blond hair and the color works for me, but I have a friend with darker hair and skin tones that would love to see this product in colors more suitable to her skin .
---
16 Sep 2013
I like...
alesantri
Location:
Santiago, Santiago Metropolitan...
this blush I like but not so much .... I like for summer because it gives a feeling of hydration to the skin ... and I recommend it more for the day .. not for night, night I use for Mac the fine fine one does not last long there to tweak ... but I still like it a lot ...
---
7 Sep 2013
This product was very pleasing
I bought fine one one earlier this week and I am very pleased with the results, easy to use, no need to add blusher, gorgeous colours, handbag size, lovely packaging all round brilliant, I'm a very happy customer and will be purchasing fine one one again in the future x
---
2 Sep 2013
Nice package but but colors not for Asian girls
Julie1985
Location:
Ho Chi Minh City, Vietnam
First when receiving it from the mail carrier, I was happy and showed it to one of my colleagues. She did like the package & its outside look. We both think it would be so convenient for us to have it as a blush and lip so I gave it to her and ordered another one online. We both tried it on our face and realized that the colors are not for Asian skin type. One more thing is that if we applied it for the lips, it's kinda dry and our lips aren't smooth at all. I would recommend posie tint for better natural look ;)
---
23 Aug 2013
Love it
Two strokes, blend it a lil and you are good to go! Gives a nice light glow.
---
16 Jul 2013
absolutely gorgeous
ANGELLU30
Location:
Sydney NSW, Australia
it is easy to apply and the color looks nature on face. i love it. If you are make up starter, you definitely need this one.
---
16 Jun 2013
Easy to use
This product is easy and fast to use. I prefer to use just a little sweep of fine-one-one on my cheeks and then put either dandelion or CORALista over it followed by a little dallas or hoola underneath for contouring effect.
---
5 Jun 2013
Perfect for my skin
As I have aged, I have come to the conclusion that powedered blush isn't best for me. I've tried several cream blushes but haven't found one I liked. I got a sample of Fine One One with another Benefit product and fell in love with it. It goes on smoothly and gives a natural look to my skin.
---
24 May 2013
It's good, but doesn't last!
Wears off after about 10 minutes...Disappointing!
---
8 May 2013
Love it! I use this everyday!
KarenKuack
Location:
San Diego, CA, USA
When I first purchased this item it didnt think I would use it everyday. Its perfect for the day and night. The colors are so lively! I tend to apply extra highlighter to give my cheekbones more depth. I apply it onto my cheekbones and instead of using my fingers I realized it works better using a brush. I also use Hervana blush over it to give my cheeks soft look.
---
28 Apr 2013
Very bright!
Would be good for in the summer, it's really bright and pigmented and feels lovely on the skin. I wouldn't recommend it if you have fair skin as it really is a very strong colour!
---
15 Mar 2013
moon beam
excellent highlighter for cheeks , gives your cheeks a remarkable glow !!! MUST USE :)
---
12 Mar 2013
Gorgeous!
Emmie73
Location:
Exeter, Devon, UK
I went to Boots today to purchase some more Dallas blush and saw this new product! I tried some and am converted to this now! It is lovely! It went on so smoothly and looks so much more natural, not at all heavy. It just gives you a very even natural glow. Expensive for the size, but like all Benefit products, you get what you pay for and they are worth every penny!
---
9 Mar 2013
So funny and easy to use
Juliet89
Location:
Venezia, Italia
Fine One One is really funny and easy to use. It combines perfectly with the skin texture, I have oily skin but it gives no problems!;) ..anyway, it doesn't last long on the skin and it fades away quickly (luckily it is so easy to re-apply during the day;)), and also the colour is a little too soft for my mediun skin tone.....but still lovin it however:) almost perfect:P
---
5 Mar 2013
really nice shade, but very little...
I really love the effect of this product, but after using it for about 4 weeks, I can say it lasts very short time... the It is almost finished, and I just use it 3-4 times a week and once a day when I use it... I don´t know if it is the shape or what, but the amount of product is scarce with respect to Its price.. I prefer Coralista blush, because It gives a similar shade, and it lasts about a year using it daily...
---
1 Mar 2013
Lovely color, but not very convenient
Lisalou09
Location:
Leeds, West Yorkshire, UK
I recently tried "Fine One One", and I was actually pleasantly surprised. The colors were lovely when blended together, and because it's a creamy tint, it looked very healthy and natural looking! I was a little disappointed with the form it came in though, and I found that because it was a pan stick, it was difficult to blend in. The cheek colors and the highlighter came out in a sort of block, and because of my complexion, it took a while to build up to a shade that looked right on me. All in all, it's a lovely product, but I personally don't think i'll be buying it again, the application just didn't do it for me.
---
28 Feb 2013
Everyday Essential!
One quick swipe from this creamy, cute and compact product is bowing to put a smile on just about everyones face! Suitable for numerous skin types, this beautiful blush will stay all day without the need for pesky little touch-ups! As this product is so versatile, it would look amazing on a variety of skin tones. I personally name it BBB (BEAUTIFULglowy finish, BRILLIANT BUILDABLE colour and BREEZY, quick application!)
---
25 Feb 2013
The perfect product for makeup beginners!
mS3riKa
Location:
Los Angeles, CA
Watch my full review and swatch LIVE on my YouTube channel! Please Subscribe: http://www.youtube.com/ms3rika
---
24 Feb 2013
This product is a great idea
I was waiting for this product with anxieties, almost it could not wait and well:my work doesn't let me to be make up (I am military) but when I get up I look like one of the protagonists of "Twilight" so I need something discreet but that it illuminates and heightens my skin. This product obtains it in a beginning, I use it directly on my moisturizing one and later I cover it with dandelion and I still have it brilliant meets natural, goes unnoticed that I take it ... but it has two "but" for my: Fist one: stay little in my skin (3 hours maximum) second: his texture tends to melt being still in the bar they are these two motives those that do that not him of 5 hearts, because nonetheless it will be the basic one for my.
---
21 Feb 2013
Not sure...
I received a sample of this so because of that I feel that my review may not be 100% accurate as it's hard to get a feel for the product off those tiny swatches! The colors were pretty but when you swatch them it's not really enough to get it on both cheeks and still be visible. I'm not sure if I'd spend the money on a larger one of these or not as $30.00 is a bit much but I think I would be willing to give it another shot if it was perhaps available in a deluxe sample at some point! Pretty shades but just not sure yet...
---
18 Feb 2013
Easy to use, small but plentiful and convenient
I have fair skin with a significant amount of red under tone. Luckily foundation takes care of the red; but because of the rudiiness I've always avoided, "blush." Corral was never a consideration, but this stuff is pretty amazing! Lips, cheeks, highlight all in one portable stick!
---
18 Feb 2013
easy to use
i love this as you go from drab to fab in seconds. It is abit sheer for my liking but i do use this product everyday and find it is perfect after layering it up a couple of times. Check out my youtube video below of me trying this product out against Benetint.
---
14 Feb 2013
Amazing
AQUA968
Location:
Cortlandt Manor, NY 10567, USA
My family compares my skin to white paper. I just put this on and BOOM!!!!! I look amazing
---
9 Feb 2013
Quick and Easy Pick-me-up
Hayleyjane90
Location:
Brisbane QLD, Australia
I love having this in my bag for a quick touch up during the day. The colours swirl together beautifully to give a gorgeous peachy glow. It's like having your blush, bronzer and highlighter working all at once!
---
9 Feb 2013
Gives a natural look
Beth123
Location:
Sheffield, England
I love the way this product gives a noticeable but natural look. Usually I don't wear blush but I love this one!
---
7 Feb 2013
Amazing
I have read a couple of reviews from unhappy customers on this product. Personally, I LOVE it, so compact, glamorous packaging, even the cardboard outside! It glides on like a dream, its not too sheer, the illuminator is sort of like a stick of high beam. It is in convenient packaging so I am able to throw it into my make up purse. Best cream blush I have tried.
---
6 Feb 2013
Very satisfied!
peachpanda
Location:
Manhattan, New York, NY, USA
I swipe fine one one on each cheek and then blend with a sponge. It looks great, love the color, love how it works. I have very fair skin, and it shows up very brightly, but blending a little tones it just enough. I think this is a very useful product. I don't think I would use it as a lip product, as it is a pricey item. I dont tend to spend that on lipsticks, I like to get 'dupes' of higher end brands at the drug store. It's fun to hunt them! For cheek color though, this is my favorite. So cute, too.
---
6 Feb 2013
This produce practices what it preaches
Suzannec60
Location:
Melbourne VIC, Australia
This is my new must have product. I keep it in my bag even evening bag because not only does it highlight, but adds a touch up to my lips or circles as the night goes on. I use this as a blush, lip gloss, highlighter and even dot the pink highlight in the corner of my eyes. Thanks Benefit. Its great! Suzanne, Melbourne Australia
---
29 Jan 2013
Easy, quick natural looking
angus02
Location:
Ontario, Canada
I really like this little stick as it is so easy and quick to apply and a dream to carry. Although there isnt a lot of product it is nice and sometimes large sized cosmetic items end up getting wasted or just too old anyway. I am willing to pay a little more for convenience of being able to toss in my bag and use in 2 secs. It gives a fklush to the face that looks quite natural but makes a difference. Sometimes another face product may be desired on top but for a "no makeup" look it is perfect, great for upcoming spring, not sure how it would handle hot summer weather though. I like the fact that it is unlike other products as are many benefit products. Its fun to have something different when it is nice!! Makeup lovers can purchase and not feel they are duplicating, haha
---
29 Jan 2013
i love this product
i love this product!! i will admit it is a little sheer but its still great! this product is more ideal for a person who is always in a rush , you just swip blend & go!
---
24 Jan 2013
Not too impressed, but it was still nice
I'd been wanting to try this for a while and a visit to Sephora cemented my need to give it a go! The positives: It is just in the most fabulous possible packaging. The metallic rose gold container looks amazing in your makeup bag. This is probably the most convenient possible blushing product you can get! It it very, very easy to blend in and this way to can have your blushing + highlighting together in one place. The negatives: The price is prohibitively high considering the limited use of this and the very small amount of product. I do feel that you would get much better use out of a box o' blush and a highlighter and you would get results that are much easier to customize. You can layer this product pretty easily, but I find that I needed three of four layers of the highlighting tone to get the shine that I needed. The pink is VERY hot pink. If you're pretty light, like me, and you like more natural colors, this might be a little dramatic for you. Also, I preferred Bella Bamba MUCH more for my dramatic blush because it has more dimension which I found fine-one-one to be rather flat. I was thoroughly unimpressed with this as a lip color. It had a serious tendency to settle unpleasantly into any cracks or imperfections in my lips and was very unforgiving. It wore off way too fast. I only found the blush staying on for a few hours and on the lips, it had maybe an hour tops. The bottom line is, if you need a beauty product that can guarantee speedy blush + lip color on the go, this is a great product. I would personally recommend a Pocket Pal or a Posie Pal for that purpose because I find the stains are much more natural looking and more versatile when it comes to easy layering and long wear. I did return this product - it was the first Benefit product I ever had to let go because I found the use was far too limited to be worth keeping. I was a little sad to see something so sleek and beautiful leaving my makeup bag, but it was for the best!
---
24 Jan 2013
just about perfect
FNPJess
Location:
California, USA
Swipe, swirl and...tada...stunning. Sort of an amazing product. Looks like it is going to give orange halloween cheeks, but then you do the little swirl with fingertips and there is a gentle peachy, I have just exercised and I am the bomb...kind of glow go-going on.
---
22 Jan 2013
LOVE IT!!!!
Goes on smooth, looks natural & gives your face that healthy glow.
---
14 Jan 2013
It is amazing
Nicoletta68
Location:
Stamford, CT, USA
I could not believe what a difference it made to my face. I actually used it on my bare face where I had used just my moisturizer and it gave me a fantastic glow. The same day I had a picture taken form my badge at work. It's the best picture ever. I LOVE it. I always carry it in my bag and it's easy to travel with (I fly every week)
---
9 Jan 2013
Simply the best
Elle55
Location:
Minneapolis, MN
I read about this product a few months back and was thrilled to find it in Sephora @ JCP recently. I cannot say enough how much I love this product. One quick swipe and not only do I have the perfect amount of blush deposited, I also have all my cheek contouring done. This literally replaces three products for me (blush, highlighter, and bronzer). You MUST get this product. My only complaint is how little product there is within the packaging. Seems to be a very high price for the small amount of product you get.
---
9 Jan 2013
In a nutshell: gorgeous
I've had it tried on today in a Sephora. I'd heard about it previously in Facebook, since a girl mentioned it and I Googled it immediately, to know what it looked like. I liked what I saw, found it promising and, now I know what it looks like on the skin, I'm quite pleased. It looks lovely both solo and with, for example, CORALista over it. That's as far as its use as a blusher is concerned. As for what it looks like on the lips, it gives a lovely warm nude-ish hue to the lips. And it can also be used with Ultra Plush Lip Gloss in Coralista, as well. Good work!
---
7 Jan 2013
Fun and Pretty ittle "Do-it-all"
I must be impressed: I never write reviews But i must say I'm a benefit baby for sure! and this little gem had me using it for lips, cheeks and even the popping pink portion (say that 3 times fast) as an a substitute for 'high brow" in a pinch on a recent trip. Okay i just talked my way into 5 stars--i hope i talked your way into giving it a try.
---
5 Jan 2013
amazing product that lasts
missdanica22
Location:
Tustin, CA, USA
it's rare that any Benefit product i try is fail. this new product goes on amazingly smooth and lasts pretty much all day long. it's fun to use ( i blend with my fingers ) and it gives you a beautiful, soft glow and definition on your cheeks. it's for all ages as well....my Grandma was the first Benefit girl and we both wear it! :)
---
4 Jan 2013
Lovely
Pattycakes750
Location:
Inland Empire, So Ca
I enjoyed this new product. I liked the way it glides on and provides a subtle sheen . Felt good going on and looked even better on the skin. Worked nice on lips. Very pretty .
---
1 Jan 2013
Awesome product!! Really silky, shimmery
I heard about this product online and couldn't wait to try it! I bought it at ULTA the first day they had it in stock! The packaging is adorable..so shiny! I have fair skin, and this looks great on my complexion! I doesn't look cakey...it simply gives you a natural glow! The only thing is that I love a lot of highlight..so I just go over my cheekbones with High Beam and it looks great! It says inside the packaging that you could always just apply the champagne color with your finger for extra highlight..but I prefer High beam (it's my favorite!) Overall a great product, not sure how long it is going to last me, it seems smaller than I thought it would be, but then again, you only need two swipes per makeup application!
---
28 Dec 2012
Quick and easy!
This product couldn't be easier to use, with a no-fuss, quick application. It wins major points with me for this. The sheer coral doesn't really show up on me (I wish it was a contouring shade) and I usually end up applying an extra swipe of just the highlighter shade on my cheekbones because it's a very sheer shade and I like that area to pop. I don't love the texture of the product on my lips. This product is perfect for those who like "no-makeup" makeup.
---
13 Dec 2012
easy application for on the go gorgeous
benebabe101
Location:
San Francisco, CA, USA
I love this product because it's so easy to apply and gives great color in one quick swoop. The color is gorgeous enough to wear alone or under my favorite box o powder (coralista is a great topper).
---
12 Dec 2012
so easy to apply
5dotbanana
Location:
san francisco, ca
I take it with me everywhere! I keep it in my purse and apply whenever I need a touch up. (If I ever need to reapply, which is rare!) I can use one swipe for a day look and a few more for the evening. LOVE THIS!
---
12 Dec 2012
the is the easiest product!
pandapants
Location:
San Francisco, CA, USA
I wear this now all the time. Just a swipe a little blend and i am out the door. I love the color!
---
Brows Play
Brows Reco
Back To Top