WHY WE LOVE IT
WHY WE LOVE IT
With a hint of tint you can flaunt natural, full-looking brows & lashes for an always polished and put-together look! Benefit aestheticians can give you a flattering tint to transform your brows & lashes from fair and sparse to full and fabulous...in minutes!.
Custom-blended color
More oomph in your arches and lashes
Tint lasts three to four weeks
* Prices may vary depending on location.
HOW TO APPLY
HOW TO APPLY
Effortless beauty...faux real!
Tint today for beautiful, no-fuss tomorrows. Our specialty tint takes to even the finest of hairs, leaving each brow with a surprisingly fuller look and every lash appearing remarkably longer! Whenever is clever...appointments are never needed, gorgeous! And while you're in the beauty seat...have those arches tamed to face-framing perfection with a brow wax.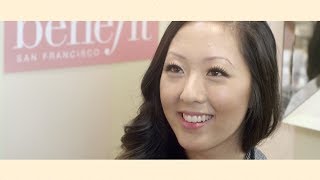 REVIEWS & QUESTIONS
Q:
brow tints for guys? i've been so tempted to get the 'trio' everytime i go in for a brow wax, but i'm worried about looking like joey from friends (you know that episode)... should i not do it?
---
Q:
do you still do tint ? I went to the montebello location today and was told you guys are no longer doing tint ? But you guys still have it as a service on your website, and the girl told me you guys have stopped doing it for more then a week? Can you please give me the right answer I was really looking forward to trying that out Thanks
A:
Hi gorgeous! Unfortunately, tinting is no longer a service offered at our Macy's locations. We have updated the Store Locator and apologize for any confusion. You can still receive the signature Benefit tinting service at our ULTA and boutique locations - check out the Store Locator to find tinting near you! https://www.benefitcosmetics.com/brand/storeLocator xoxo, B
---
Q:
How long should someone wait before going to the brow bar for the first time? Hey Everyone, Quick question: it's been about 2 weeks since I have had my eyebrows waxed from a third party. This will be my first time ever going to the Benefit Brow Bar and I am really interested in going. I was just wondering how long a person typically waits before they go to the brow bar for the first time. ( Is 2 weeks to short or should I wait until they are thicker for better results)? Thanks!
A:
Hi gorgeous! We generally recommend waiting 3 weeks between brow waxes, but you can definitely get waxed if you've had growth! We can't wait to meet you - you're going to LOVE your brows! xoxo, B
---
Q:
How old do i have to be? Can i get my brows tinted without a parent with me?
A:
Hi gorgeous! Benebabes between ages 10-17 must have a legal guardian present at the service. Benebabes who are legal adults (generally age 18, though it depends on the state) may receive services on their own. xoxo, B
---
Q:
Can tinting help extend the brow? Ok, I admit, I have no idea what I'm doing with my tweezers. My eyebrows are pretty thin and barely shaped and they don't extend very far. I usually use a pencil or powder to extend the brow. Will tinting help draw/cover up spots that don't actually have any "brow"?
A:
Hi gorgeous! Tinting can definitely help your barely there brows! Our aestheticians will custom-blend colors that can take your thin brows to full and flattering in minutes. Best of all, your tint will last for 3-4 weeks! xoxo, B
---
Q:
Is your brow tint safe during pregnancy?
A:
Hi gorgeous! Please inquire with your physician first to see if brow tinting is safe. xoxo, B
---
Q:
Blonde brows I'm quite fair so my brows are almost invisible. If I get them tinted will they go very dark and unnatural looking or can I get them fairly natural. The last thing I want is to look like a cartoon
A:
Hi gorgeous! Our aestheticians will ask what shade you are looking for - the tint is custom-blended to take your brows from fair & barely there to full and flattering! Just be sure to tell your aesthetician that you prefer a natural brow! xoxo, B
---
Q:
Can swimming in chlorine lighten your brow tint?
A:
It's very possible! I know that swimming in chlorinated pools will slowly strip the dye from my hair so I always apply conditioner to protect it. After swimming, be sure to wash and thoroughly rinse to get the chlorine out. B xo
---
Q:
Can I get my brows lightened at the brow bar? I have (unnatural) blonde hair and very dark eyebrows. For a more natural look I wanted to know if I could get my brows tinted lighter.
A:
Hi gorgeous! Typically lightening your hair color is only achievable through bleaching, which we do not do.
---
Q:
Brow Tint for Gingers? Hi, I really want to get my brows tinted, but I'm afraid they won't have the right colors for me? I'm a ginger on the bright orange side of the spectrum. I noticed that all of your brow products are for people with blonde, brown, or black hair, so I just want to make sure I can actually get an appropriate shade. Thank you! :)
A:
We can absolutely tint red haired beauties. Be sure to check our store locator for a door nearest you!
---
Q:
Can I wear brow products to the brow bar? I am planning on getting my brows tinted at my local benefit brow bar and I was just wondering if I could fill in my brows as normal to my appointment or do I have to keep them bare because it will affect the tinting?
A:
You can come to the brow bar wearing brow makeup - Benefit's Aestheticians will help you remove your brow makeup prior to your service. Happy primping!
---
Q:
how long should I wait to wash my face? After getting my eyebrows tinted how long should I wait before washing my face again?
A:
Hello Gorgeous! Don't let your new brows stop you from having flawless skin. However, you will want to avoid any products that contain oil from touching your newly tinted brows for at least 24 hours. For my benebabes the longer they avoid oil on the tint the longer their tints last. If you don't already own Benefit's "Remove It" its a good idea to pick that up after your service! Its oil free and is safe for tinted brows.
---
Back To Top