WHY WE LOVE IT
Transforming brows since 1976!
WHY WE LOVE IT
Transforming brows since 1976!
The Benefit brow wax is the quickest way to not only flatter but flaunt your favorite features. Whether you're searching for eye-opening arches or a little extra lift in your overall look, the results from this service will leave you looking polished, pretty and put-together.
Brow & lip wax
Brow tweeze
HOW TO APPLY
HOW TO APPLY
Cookie-cutter styles & stencils simply will not do...every brow service begins with Benefit's signature technique, Brow Mapping: a 3-step custom technique that identifies the perfect shape on any face. Wax on & wax off when you want...appointments are never necessary, gorgeous!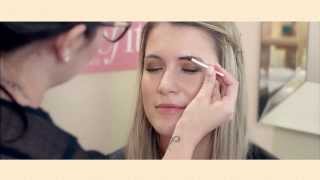 REVIEWS & QUESTIONS
Q:
what is the difference between brow wax and brow shaping?
---
Q:
What skin products should I stop using before/after getting my brows waxed? I recently started using a Clarifying Treatment (Vitamin C 5%, Vitamin E 1%) and I want to know whether I have to stop using it before/after getting my brows waxed. Thanks, I really love this service!
A:
Hi gorgeous! Before your brow wax, you must sign a release form confirming that you are not currently using Retin A, Retinol (any form of vitamin A), antibiotics, or benzoyl peroxide (clinical grade). Please consult your physician to determine if waxing services are safe for you. xoxo, B
---
Q:
Do you get a free brow wax during your birthday month?
A:
Hi gorgeous, Free Benefit brow arch service will be provided during the US calendar week (Sun-Sat) which includes legal birth date, except at Ulta Beauty Benefit Brow Bar locations. Click here for more info https://www.benefitcosmetics.com/help/faq#faq-21 Thanks, B xo
---
Q:
Acne Medicines and Eyebrow Waxing Am I allowed to get my eyebrows waxed if I use acne topical products such as retin-a?
A:
Hi gorgeous! If you're going to get waxed we suggest pausing retin-a usage a week before your wax appointment. Keep in mind that you can continue using your topical products if you opt to get tweezed or threaded. All of our boutiques and brow bars offer tweezing and waxing, and our boutiques offer tweezing, waxing and threading. Please check the store locator for a door nearest you.
---
Q:
Just recently plucked my eyebrows.. I recently plucked my eyebrows, they aren't too trimmed I mostly just focused on the middle and a little underneath my brow so I am wondering if I should wait to head to a Benefit Brow Bar or not..I have never had my eyebrows really shaped for me before, every time before that I have had them waxed it has just been cleaning up around the edges and I am super anxious to have them actually shaped well! Thank you in advance for any response!
A:
Hi gorgeous! If I were you, I would let them grow out a little and then make an appointment to get your brows waxed, threaded or tweezed at a boutique or brow bar near you https://www.benefitcosmetics.com/brand/storeLocator B xo
---
Q:
Brow Bar hours what are brow bars hours?
---
Q:
After getting an eyebrow wax, will the area around my brows be red? if so how long would it be red for?
A:
It really depends on your skin, gorgeous. Typically it does get red but only lasts about 15 to 30 minutes. You can always ask them to apply a little bit of cover up after your brow wax to conceal any redness.
---
Q:
Brow Wax?? If I get just get a plain brow wax, do they just map out my brows, wax them and then fill them in?
A:
Map it, trim it, wax it, tweeze it. Benefit's signature brow service will get you groomed for greatness in no time flat. Our experts are highly trained in the in the art of Brow Mapping, an exclusive technique to finding the perfect brow on any face…taking your key features into account, of course. It's fast, fabulous and instantly flattering http://www.benefitcosmetics.com/beauty-services#section=services
---
Q:
I have over tweezed my eyebrows, how long do I need to wait to get them waxed and shaped again?
---
Q:
Question on Eyebrow Waxing Do you need the tinting to get the eyebrow waxing or can you get the eyebrow wax by itself. I am a little poor to do both LOL!
---
Q:
How old do you need to be for eyebrow waxing? Do you need to have a parent/guardian present before a certain age?
---
Back To Top